About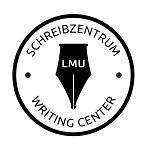 The Writing Center ("Schreibzentrum") at the Faculty of Languages and Literature was founded in January 2015 as part of the project "Lehre@LMU" with the aim of combining the individual tutoring programs that had already been established by some of the departments. Associates ("assoziierte Mitglieder") from all three departments of Faculty 13 contribute to the Writing Center and have been trained or are in training through the LMU tutor training program "TutorPlus." Since its inception, the Writing Center has been in growing demand and achieved recognition beyond Faculty 13. The expertise of the writing-intensive humanities is visible in the core of academic work across LMU.
The focus of our activities is placed on the multi-layered processes of academic writing, always with reference to recent research on the writing process. Our Writing Fellows and student Peer Tutors support students of all semesters and at all stages of writing, help them engage critically with their writing and develop their skills—crucial both for their studies and professional life. We offer a drop-in office hour twice a week as well as the opportunity to schedule individual appointments (in English or German). We dedicate entire "Writing Days" to specific issues in academic writing and organize lectures and workshops addressing topics such as research strategies or overcoming writer's block.
Throughout the lecture period the Writing Center offers workshops on Friday afternoon, inviting undergraduate, graduate, and doctoral students to learn more about one of the many aspects of academic writing. Annually in March, we organize the Long Night of Procrastinated Papers, to which we welcome more than 300 students from across all LMU faculties.
Dr. Daniel Graziadei serves as coordinator of the Writing Center while a dean, the founder Dr. Bärbel Harju, and the board, constituted of the directors of the three departments of Faculty 13, support its activities and efforts. Another central element of the Writing Center is the training of tutors, funded by Lehre@LMU.