Writing Groups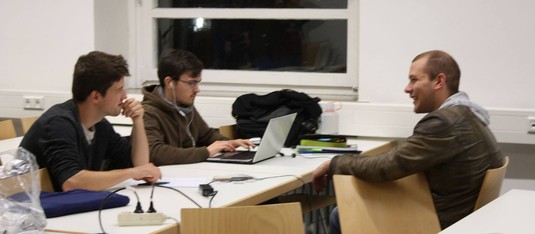 Writing Groups for Doctoral Candidates
Writing a dissertation oftentimes means sitting alone in a library with little opportunity for exchange with like-minded peers. This can lead to sinking motivation levels and unnecessary procrastination.
A writing group can remedy this! Between three and five like-minded individuals meet together at regular intervals (weekly or biweekly) to discuss current problems and successes concerning their dissertations.
Have we piqued your interest in a writing group or tandem? Writing groups are organized via our Moodle platform. To get the access data please register on the form.
More offers for doctoral candidates also at the Graduate Center!
Writing Groups for Students
Especially during the final thesis, we highly recommend joining a work group with like-minded, similarly-motivated peers. In a writing group, you can meet regularly to exchange thoughts and progress on your theses, to support one another in the case of a writing crisis, to receive and provide feedback on drafts, or even come together to have a work day.
Writing groups arise through the initiative of the group members themselves on our Moodle platform. Should you be interested in forming a writing group, please fill out the form to receive the access data.
More on Writing Groups
Writing groups help not only to create a sense of obligation (goals will be set and checked on), but also provide the opportunity to exchange with peers, receiving and offering feedback at each stage, motivating the group members to work on their dissertations with more vigor. A writing group is therefore to be seen as a sort of 'business meeting'. It is not a room for private conversations or optional free-time activity, which can be skipped as convenient. In order to successfully and regularly meet, a reciprocal sense of obligation can be achieved in that the group decides on a set of rules to be adhered to. You can find an example of a "Team Contract" (in German) here (.pdf, 173 kB).
For those who would rather work in pairs, there is also an option to pair up with another doctoral candidate in a writing tandem. For example, the writing tandem could meet each morning in the library to work separately and take their lunch break together. It is also possible for a tandem to agree on set times and deadlines in order to create a greater sense of obligation to work on one's dissertation.
Teresa Pancritius, a member of one of the writing groups created through the Writing Center, wrote about her experience in an article (.pdf, 593 kB) in the Münchner Merkur (in German). Her group is in agreement: They all profit from their meetings far away from their lonely work desks!