EUGLOH: Writing Global Health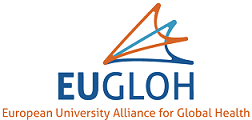 Writing Global Health is a virtual workshop series that aims to narrate, communicate and disseminate global health science and research on a global scale. We build this scale with our workshop participants through both a sensitization towards multiple modes and media and a critical assessment of what works, when and where. Drawing on research and scientific exchanges within the EUGLOH European University project, we ground these workshops in the core literary traditions of storytelling and creative writing, while extending these ideas into the realm of scientific popularization. We welcome projects of all sizes and ambitions, as we explore possibilities of communicating your work within EUGLOH (and your individual research on global health) to a broader public.
Dates:

May 25, 14-15h
May 28, 14-18h
June 4, 14-15h
June 8, 14-15h
June 15, 14-15h
June 22, tbd (individual presentations)
June 25, 14-16h
Platform: provided upon registration
Supervisors: Dr. Daniel Graziadei (LMU Munich), Divya Madhavan (CentraleSupélec, Université Paris-Saclay)
Registration: via our registration form until

May 20, 2020
Program
May 25: Preparatory Phase
May 28: Kick-Off Meeting
June 4: Popularization exercise
June 8 and 11: Individual online work
June 15 and 18: Online work in small groups
June 22: Online presentation of favorite element
June 25: Dissemination, application of new skills
July 14: Evaluation
Application
Please apply via our registration form until May 20, 2020. We will collect the applications and will inform you shortly about the status of your application. Participants will be admitted proportionately from the five EUGLOH universities and according to the principle of "first come, first served."
This workshop is part of the EUGLOH program (WP6). It will be led by the LMU Writing Center in cooperation with the Academic Writing Center at Centrale Supélec.